Randel Reiss
Producer
---
---
---
I am currently the major shareholder in the first independent MMORPG publisher, Prairie Games. Minions of Mirth has been live and operating since December 2005 and currently supports 60,000 registered users:

http://www.PrairieGames.com/
I also work with one of the top, if not the top, independent game developers in the game industry, Blue Shift, based in Mountain View California and Vancouver, Canada. I handle Business Development with high profile publishing clients such as Electronic Arts, Activision, Midway, and recently BioWare/Pandemic. I have done project management on Medal of Honor: Airborne, FIFA Street 3, and other top titles.
Formerly I was one of two Executive Producers for Perpetual Entertainment in San Francisco. Originally hired to create and launch a 3D game portal service, after I created the business plan I was requested to be acting Senior Producer on the up and coming Gods and Heroes MMORPG project. Perpetual Entertainment has been in the press heavily recently as owning the exclusive online rights to the lucrative Star Trek property.
Prior to Perpetual Entertainment, I was a co-founder and Vice President of Product Development for Doppelganger (formerly Evil Twin Studios) in San Francisco. Doppelganger is currently going live with the first massive online 3D social environment aimed at teens, built on technology that I originally designed and engineered myself.
Last year I launched the first website dedicated to legal and business issues affecting the game industry:

http://www.GameLaw.ORG/
In addition, I was recently commissioned as an expert witness for the Estate of 3DO. I have testified on the industry standard requirements of Beta quality software and the typical product development cycle necessary in finalizing interactive entertainment software. I have documented, for the Federal Bankruptcy Court of San Francisco, California, the details of product submission by a developer for milestone approval by the publisher.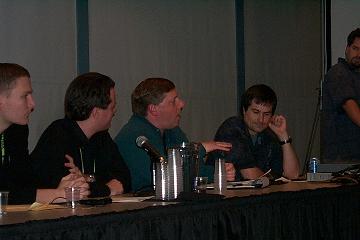 I presented at the 2003 Game Developer Conference, a seminar entitled "Surviving Crunch Time," in which I discussed my experience finalizing over 32 interactive entertainment software products.

Prior to that I completed a short contract position as acting Development Director on a Battlefield 1942 patch for Electronic Arts. I also conducted an extensive on-site due diligence on the developer n-Space in Orlando, Florida. I was reporting to Tom Frisina, Vice President of EAD, who has offered a reference for me if and when necessary.
From 1999 to 2002 I was the Production Manager for Online Studios with Sony Computer Entertainment America in Foster City. I managed 24 employees building online Playstation 2 games and online consumer services such as browsers, e-mail, chat, audio & video streaming on the Playstation 2. I did business plans, scheduling, budgeting, break-even analysis, as well as team management for both internal and external resources.

---
---
Randel B. Reiss
Redwood City, California
(650) 366-7601

CELL (650) 208-4994
mailto:randel@randelreiss.com